A Special Issue of the Journal Molecules, entitled "Structure and Function of Metalloenzymes" and edited by Dr. Sérgio F. Sousa (BioSIM, FMUP) is now open to contributions.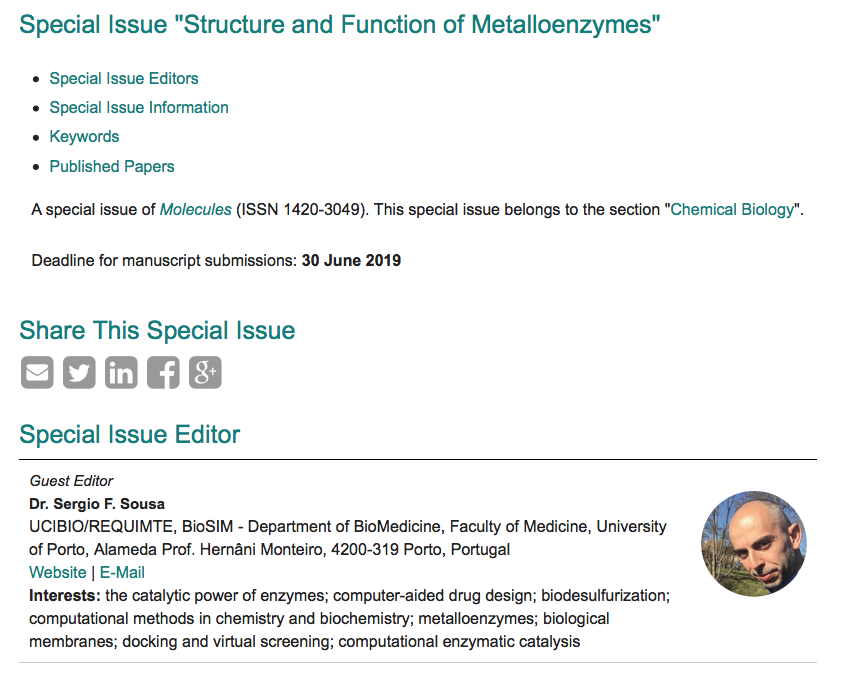 Metal ion cofactors play a fundamental role in many biologically enzymes contributing to the diversification of their associated chemistry, the strengthening of their catalytic role, and the modulation of their activity. In fact, metalloenzymes are very often among the most proficient catalysts in nature. For many of these systems, the presence of the metal atoms is directly involved in the catalytic activity displayed, while in others, the metal plays a structural role. Features like the identity of the metal atom and its oxidation and spin state often have a dramatic impact on the structure and activity of many metalloenzymes. However, some enzymes can accommodate without penalty different metal atoms.
The sheer impact that one single atom—metal—can have on the structure and activity of a biomolecule composed of several thousand non-metal atoms continues to impress scientists to this day, particularly as researchers worldwide continue to clarify, to the atomic level, the catalytic mechanisms of many metalloenzymes, using a variety of experimental and computational methodologies.
This Special Issue aims to gather original research papers, reviews, and communications focusing on the relation between metals, enzymes, and their structure and activity.
More information available at: